Last June I was approached by Slidell Little Theater to design a poster for a Young Audiences show. Most YA shows are musicals adapted from children's books, and when I found out that the show was Knuffle Bunny I had to say 'yes'!

I am a HUGE Mo Willem's fan, I think his stories are absolutely hilarious and knew immediately that the show was going to be amazing.

Growing up in Slidell I spent a lot of time at Slidell Little Theater. Most of my high school friends and teachers also volunteer here, on stage and off. My high school algebra teacher and my high school choir teacher, Josh and Melanie St. Cyr, were in charge of this production of Knuffle Bunny.

I later got an email from Josh about managing the set design…. and again I had to say "yes" because I love this story so much. From that July thru tech week (early September) I was working like crazy on the digital sets, 3D cardboard set pieces, and laundry puppets.
 
Whenever I start a project, before I start sketching, I gather reference images. To get the look I wanted I like to use Pinterest to collect various reference photos. Since "Knuffle Bunny" takes place in Brooklyn, I searched for old new york shop fronts, brownstone houses, and other NY scenes.







I then used the script (and the directors) to help me decide which of the New York scenes were needed to help tell the story the best way possible.

If this were any other kid's book I would be worried about being too influenced by the original book's art style. Thankfully I didn't have to worry about this problem because Mo Willems used his own photographs of Brooklyn for the backgrounds.
So the visuals for Knuffle Bunny the musical is actually the opposite of the book! Illustrated people and real backgrounds are used in the book; real people and my illustrated backgrounds are used in the musical.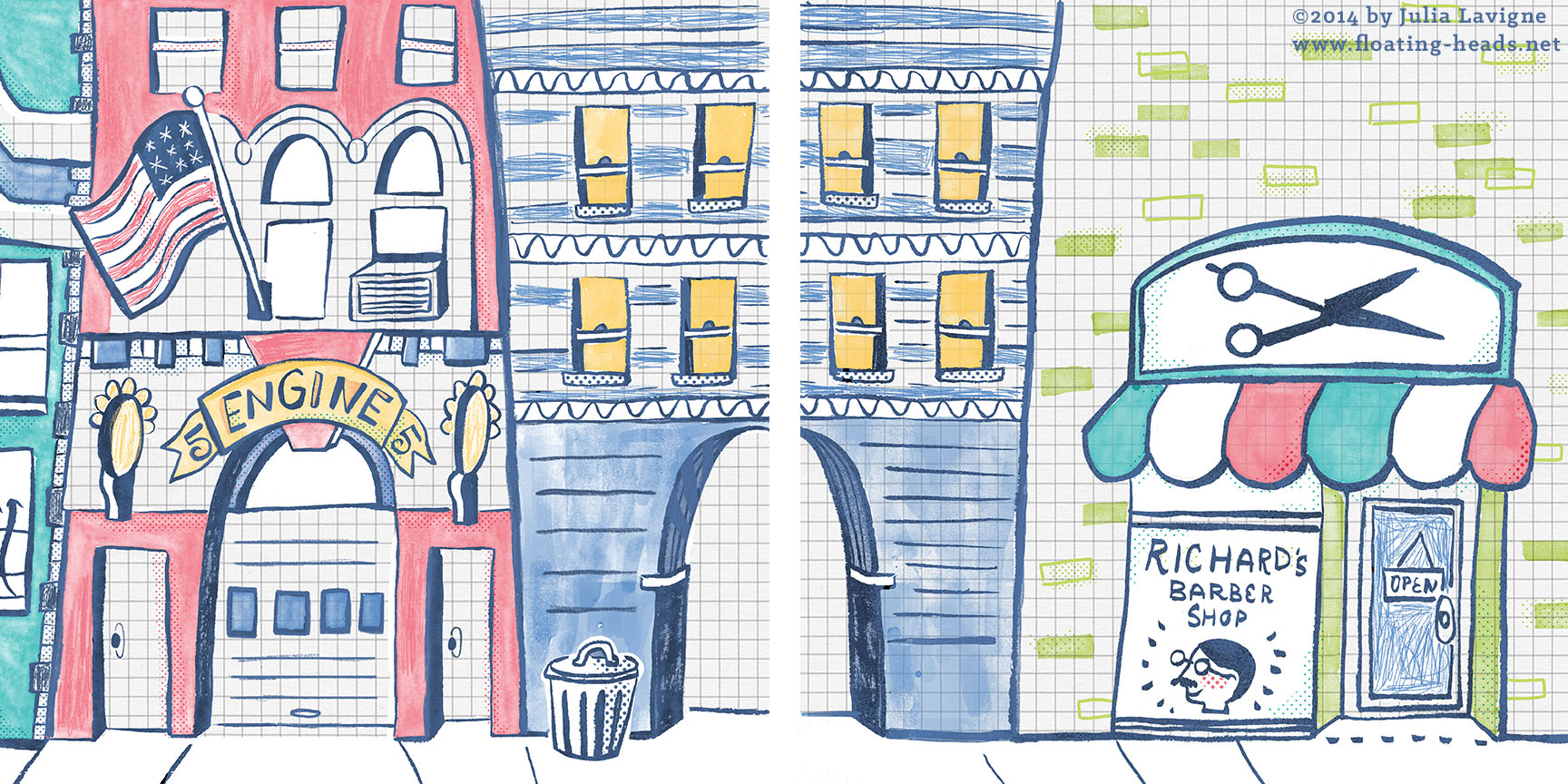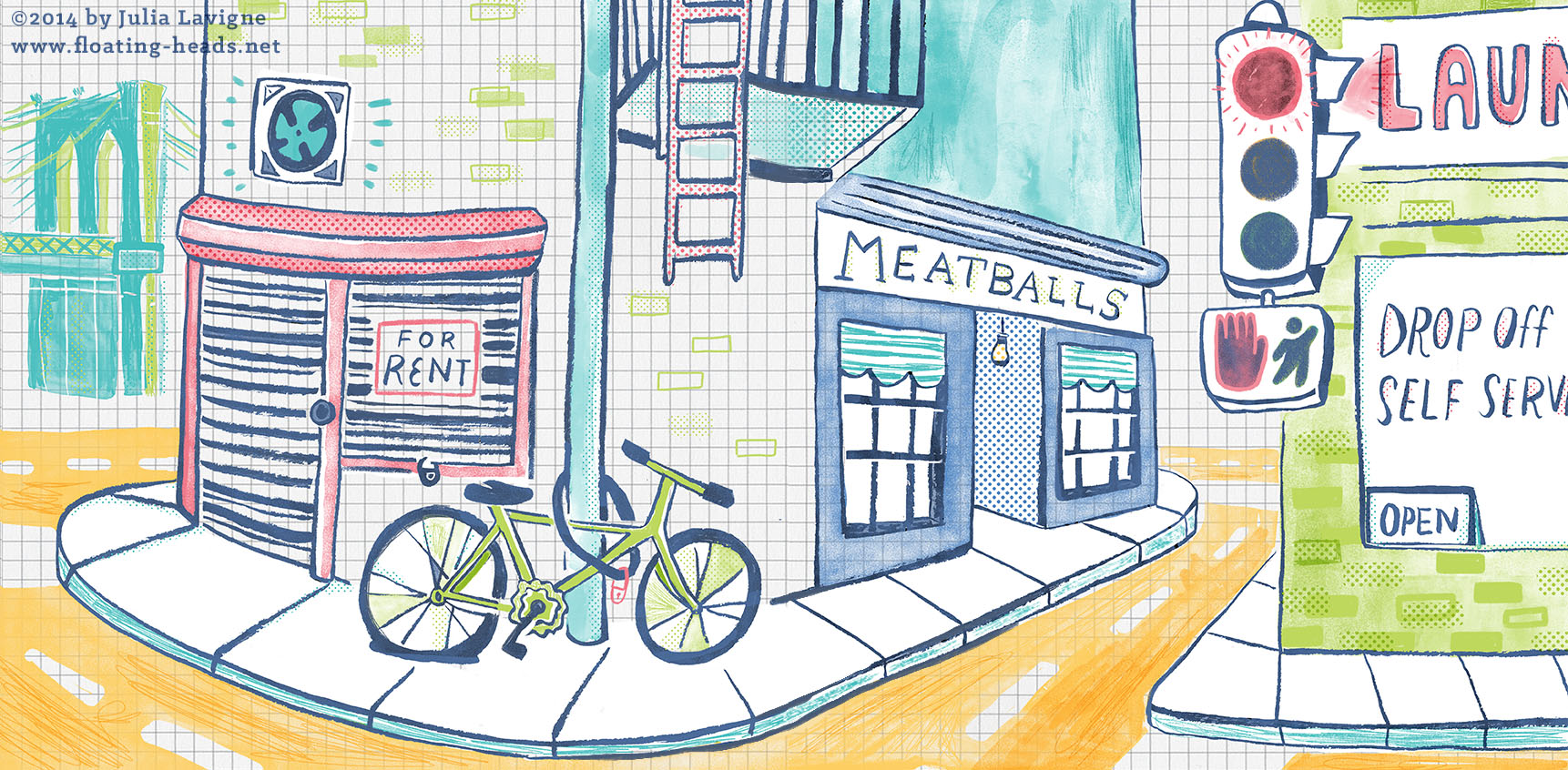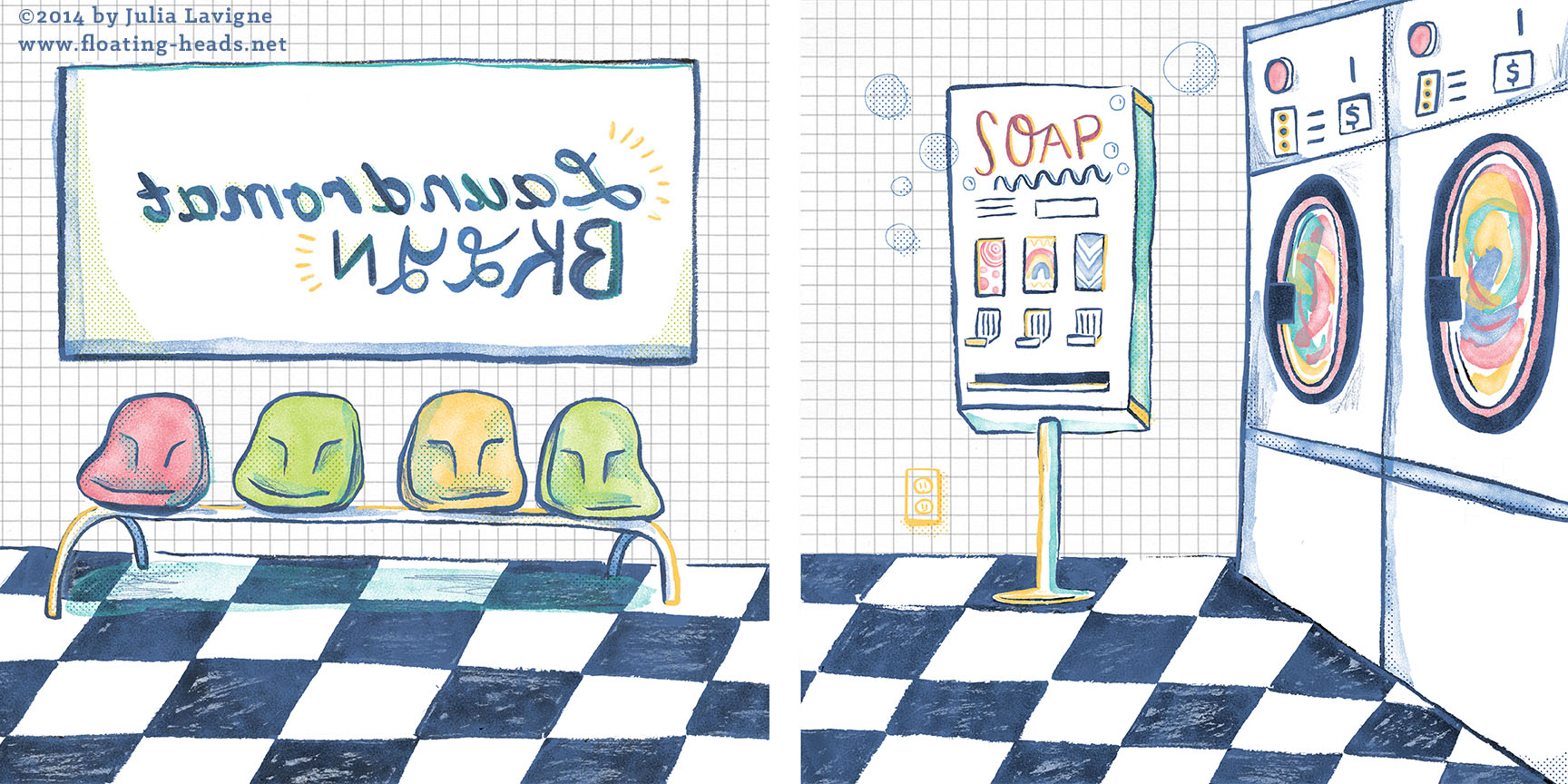 In the second act of the show, the dad character battles huge, larger than life pieces of laundry as he's trying to find his daughter's stuffed Knuffle Bunny in the wash.

To create this surreal battle scene I designed some puppets, with the help of Josh and my partner Stephen, for actors to wear on stage.

I started with sketches, then drew out a scaled up version on cardboard. After the cardboard was cut to shape we used PVC pipe, zip ties, and glue to construct the back so the actors could wear the pieces on stage.
There was a part in the script where the dad and Trixie (the baby) cross the fire station en route to the laundromat.

We thought it would be cute if we created an extra pigeon scene in the show using the fireman and his firetruck. Mo Willem's pigeon books are SUPER popular, so we knew it would be a big hit with the kids.

Josh's brilliant 6 year old daughter dressed up as the little pigeon and after the fireman tells the audience "DON'T LET THE PIGEON DRIVE MY FIRETRUCK" it's up to the kids in the audience to tell the Pigeon "NO!!!" whenever she sneaks towards it.

To make this extra fun scene a reality I really wanted to create a BIG firetruck to roll out. I made the illustration first and then scaled it up to 8 ft with multiple pieces of cardboard.
Most all of my work is digital on the computer and only used for print. I am so happy I had the opportunity to create work in 3D that interacts with actors moving on stage and with an audience full of kids and families. This project was very time consuming (for all involved) but so so worth it in the end. Thanks to Mo Willems for being all around awesome, I had a blast working with this story! And thanks to Slidell Little Theater and the whole community for coming out to support live theater and art.